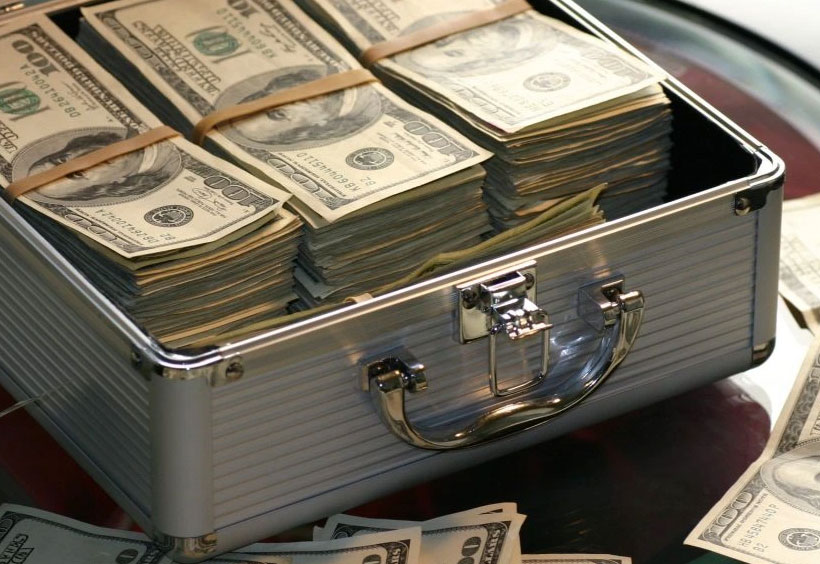 Figuring out how to make $100K a year is not hard if you look in the right place. Do you have to spend your life savings buying a franchise to get there? No.
Will you have to roll up your sleeves and do some work for that cash? Of course. But can anyone achieve six-figure income? Absolutely.
Let's get to it.
1. Staffing Agency
Instead of looking for a job yourself, why not help others with this task? With profit margins sometimes touching 40%, being a headhunter can be a financial windfall.
Your clients are busy running their day-to-day operations. Your job is to help them find ideal job candidates. They save time by outsourcing this task to you and you provide them with viable applicants.
If you have ever been in a management role, you were most likely performing most of the job duties of a staffing agency. Resume reviewing, setting up one-on-ones, background screening, etc.
The staffing industry creates $174B annually and is one the fastest growing within the sector. Get a piece of that cash with diligent work and your laptop while working from home.
2. Property Management
Manage other people's property and get paid handsomely for it. Real estate has proven to be a surefire way to make significant income year after year.
Your task will include managing contractors, collecting rent, processing work orders, lease renewals, eviction procedures, and more. It may sound overwhelming at first, but your days should run smoothly once you have a reliable team in place.
Helping busy investors by managing their properties could me lots of cash in your bank account. How much money? The industry average for property managers is 10% of all collected rents.
3. Grab a camera
If you take the pictures at family gatherings, consider turning this hobby into a money machine. People are more than willing to part with their cash in return for professional pictures.
You can go various routes with your new photography gig too. Solicit private individuals or knock on the doors of local companies in your market. You decide what your fee is. Both need steady hands to capture special moments.
If you're not that social, don't worry. You can still monetize your skills as a photographer by uploading your library of photos to sites like Pexels, and Unsplash.
Or create your own website, stockpile it with as many pictures as you wish, and charge by the image. Either choice has an awesome payday attached to it.
Best part of making moolah with this idea? You'll meet countless people and never be stuck behind a desk!
4. Accounting services
With nearly 600,000 new side hustles being launched every 12 months in America, many of those owners will require accounting software.
Have a knack for doing taxes and following the money? Get paid for your knowledge. Develop a professional website, make sure any license requirements are in order, and spread the word.
To grow your customer base, start a blog, promote your service at church, join a networking group, and/or host a webinar online to get the ball rolling.
Providing accounting services is scalable and can grow quickly. Your firm can also be grown organically and at your own pace.
5. Be a housekeeping boss
You probably searched for the term "How to make 100k a year", or "Best way to get rich" in Google to find our post. And like our list—and most others—one of the results featured is janitorial. In fact, Business News Daily listed this sector at #9.
If all the tech that has been swirling around online is not for you, a more straightforward line of work could be the answer. Providing office cleaning is one of the most uncomplicated and affordable companies you can start.
Earning one hundred thousand a year is not impossible. And hitting that mark in your second year out is almost guaranteed if you simply provide great service.
What about experience or lack of? A great course will cover detailed steps to reaching your six-figure goal and boosting confidence.
6. Lawn care
Yard maintenance is another option for CEO seekers. And just like cleaning, it is highly lucrative yet easy to launch. How big is this opportunity? Try one hundred billion annually. That's big.
The operational cost requires a little bit more startup capital, but it can grow fast. One of the main reasons is repeat business.
You provide great and consistent service, and your customers will continue to pay you. Those customers can be residential or commercial, and they're ready to compensate you for good service.
If being outdoors is your thing, and you believe in earning good pay, lawn care may be your calling. Plus, you get to say goodbye to the cubicle and four walls.
7. Vacation rentals
Another way to make a hundred grand per year is matching tourist with your residential property. Hotels have fallen out of favor as of late and created an entire industry for entrepreneurs willing to start a business.
Power houses like Airbnb and FlipKey have made average people rich. A no-brainer for folks with vacant properties or spare rooms. Bookings are done completely online, and you can run it from home.
You must clean your rental before each guest and maintain accommodations that promote positive reviews. For example, make sure guest can easily contact you, have no issues in your rental, etc.
Doing so differentiates your rental from your competitors. Profits will pour in as your place will be super popular with those on vacation.