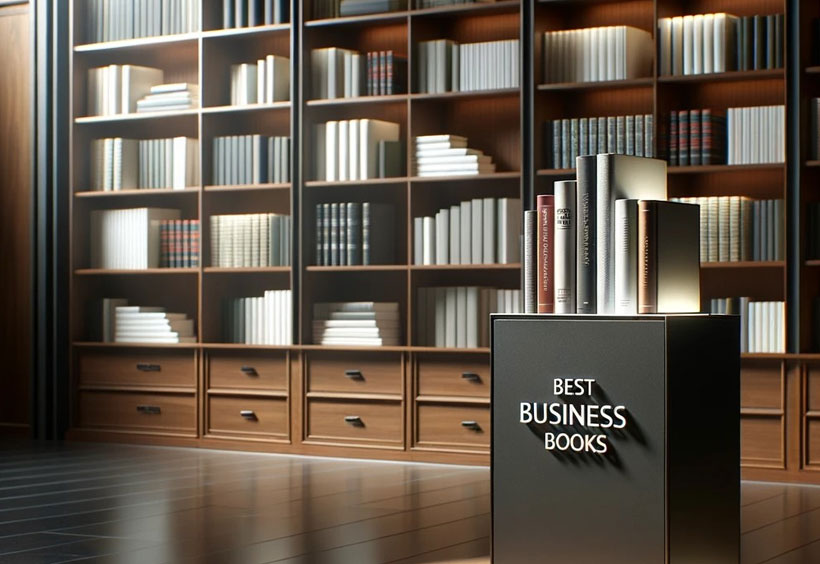 Introduction
Navigating the world of business can be daunting, especially with ever-evolving trends, technologies, and methodologies. Thankfully, there's no shortage of insightful literature to guide entrepreneurs and professionals. This year, if you're looking to sharpen your business acumen and gain insights into the minds of some of the world's most brilliant thinkers, look no further than our list of the best business books 2024.
1. Getting to Yes by William Ury
"Getting to Yes" stands out as an authoritative guide on negotiation. William Ury provides a straightforward, universally applicable method for negotiating personal and professional disputes without getting angry or defeated. Through this book, Ury illustrates that mutually beneficial agreements can be reached if we break away from destructive patterns.
Why You Should Read It:
In today's interconnected world, negotiation skills have become indispensable. By internalizing Ury's strategies, readers can navigate discussions and disputes with greater confidence, ensuring outcomes are favorable for all parties involved.
2. Outliers by Malcolm Gladwell
In "Outliers," Gladwell explores the factors that contribute to high levels of success. He challenges our perception of how success happens, presenting an argument that there's more to success than just individual talent.
Why You Should Read It:
By understanding the unique factors and opportunities that have contributed to the successes of many iconic individuals, readers will be inspired to view their own paths differently, recognizing that every hurdle and opportunity shapes one's journey.
3. Start With Why by Simon Sinek
Simon Sinek's groundbreaking book delves into the idea that successful individuals and organizations are those that have a clear understanding of why they do what they do. He argues that knowing your 'why' is fundamental to achieving and sustaining success.
Why You Should Read It:
For professionals and entrepreneurs seeking purpose-driven success, "Start With Why" is essential. Sinek's perspectives will encourage readers to reevaluate their motivations and align their actions with their core beliefs.
4. Atomic Habits by James Clear
James Clear masterfully outlines the science of habits and how tiny changes can lead to significant results. He presents actionable strategies to transform habits and thereby change any aspect of our lives.
Why You Should Read It:
If personal or professional transformation is on your horizon, Clear's insights into habit formation and breaking can be life-changing. Recognizing the power of habits can lead to profound, lasting change.
5. The 4-Hour Workweek by Timothy Ferriss
Timothy Ferriss's "The 4-Hour Workweek" challenges the conventional 9-5 work lifestyle. Ferriss provides tools and strategies to live more and work less by automating and outsourcing tasks.
Why You Should Read It:
For those feeling trapped in a never-ending work cycle, this book provides a fresh perspective on work-life balance. Ferriss's methods empower readers to reclaim their time and live on their own terms.
6. How to Win Friends and Influence People by Dale Carnegie
A timeless classic, Dale Carnegie's book offers principles and advice on how to influence others and make friends effortlessly. It's a guide to improving personal and professional relationships.
Why You Should Read It:
In a world dominated by digital interactions, the ability to connect and communicate effectively is invaluable. Carnegie's principles are timeless tools for enhancing interpersonal skills.
7. Thinking Fast and Slow by Daniel Kahneman
Nobel laureate Daniel Kahneman presents decades of research to help us understand what really goes on inside our heads. He introduces two systems of thinking: System 1, fast and intuitive, and System 2, slow and deliberative.
Why You Should Read It:
For decision-makers and leaders, understanding cognitive biases and the two systems of thought can lead to better decision-making and a deeper understanding of human behavior.
8. Born For This by Chris Guillebeau
Chris Guillebeau provides insights into how individuals can find the work they were meant to do, striking a balance between joy, money, and flow. It's a guide to finding purposeful work.
Why You Should Read It:
In a rapidly changing job market, understanding one's unique strengths and passions is vital. Guillebeau's book aids readers in navigating their career paths with purpose and passion.
Bottom Line
From understanding our own thought processes to mastering the art of negotiation, the best business books 2024 offer invaluable insights for professionals at every stage of their career. As the world of business continues to evolve, these timeless teachings remain relevant, providing both foundational knowledge and innovative strategies for success.