Oprah Winfrey Business Ventures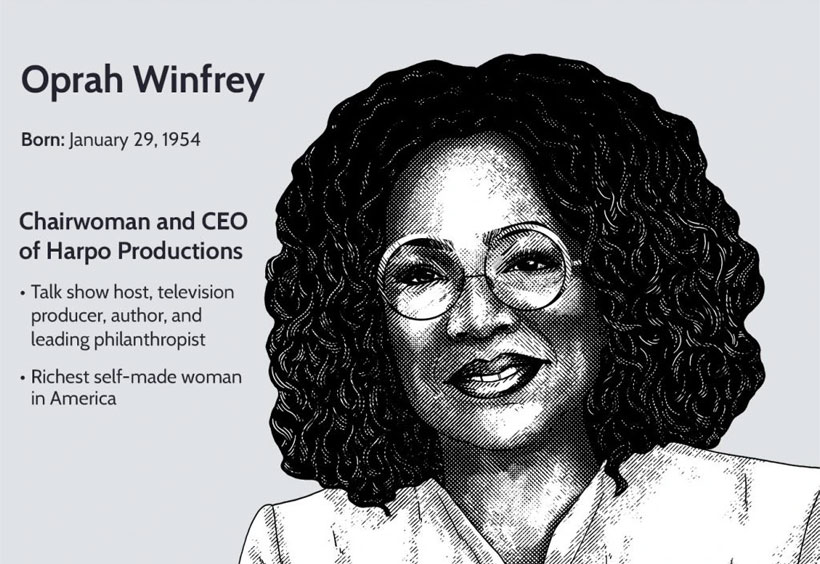 Oprah Winfrey is a household name, synonymous with transformational television and groundbreaking influence. While she's beloved as America's leading talk show host and media proprietor, her realm extends much further. Oprah Winfrey's business ventures span the media, philanthropy, and health and wellness sectors. What's even more inspiring is that her journey to success started from humble and challenging beginnings.
The Oprah Winfrey Network: A Paradigm of Media Excellence
OWN, the Oprah Winfrey Network, stands as a testament to Oprah's ability to transcend mediums. The network showcases her extraordinary gift for connecting with people, now on a platform wholly owned by her. It was a daring step to move from daytime TV, where she had an immense following, into the competitive world of cable networks. However, her unmatched work ethic, coupled with a unique understanding of her audience, ensured the network's success.
The Power of Taking Ownership
A crucial aspect of Oprah's thriving career and diversified portfolio is her accountability ethos. She believes that taking full responsibility for one's actions is the key to freedom and self-confidence. This mindset helped her maneuver the complex corridors of the corporate world, making her a formidable entrepreneur. No longer just the host of a popular show, Oprah had become a businesswoman, dedicated to fostering a holistic lifestyle for her audience.
Investing in Health and Wellness: Weight Watchers and True Food Kitchen
Oprah's investment in Weight Watchers wasn't just another business move; it was a calculated decision aligned with her principals of health and personal well-being. This investment has since multiplied over tenfold, adding another feather to her entrepreneurial cap. Likewise, she invested in True Food Kitchen, an eatery focused on healthy and conscientious eating, further extending her influence in the health and wellness sector.
Making an Impact Beyond Business: Philanthropic Endeavors
One of the most impactful aspects of Oprah Winfrey's business ventures is her commitment to philanthropy. Her Leadership Academy for Girls in South Africa has had a global impact, empowering young women to be leaders in their communities. This commitment to giving back also manifests through Oprah's Angel Network, a charitable organization designed to inspire other high-profile individuals to make a difference.
Lessons from Oprah: Self-Respect and Individuality
Beyond her business acumen, Oprah is a beacon for individual empowerment. She encourages everyone to think for themselves and to maintain self-respect. With self-respect comes self-love, which she believes is the foundation of any successful venture, whether personal or professional.
Conclusion: Oprah Winfrey's Lasting Legacy
As the first African American woman to attain billionaire status, Oprah Winfrey has been a transformative force globally. Her multi-faceted business ventures and philanthropic initiatives have deeply impacted tens of thousands of lives. Her unyielding belief in individual power and the purity of human intent serve as motivating forces behind her successful career. Whether through her media empire, her investment choices, or her philanthropic endeavors, Oprah has shown that the secret to lasting success lies in the alignment of business acumen with a soulful purpose.